L3Harris Developing Augmented Vision platform: MAVIS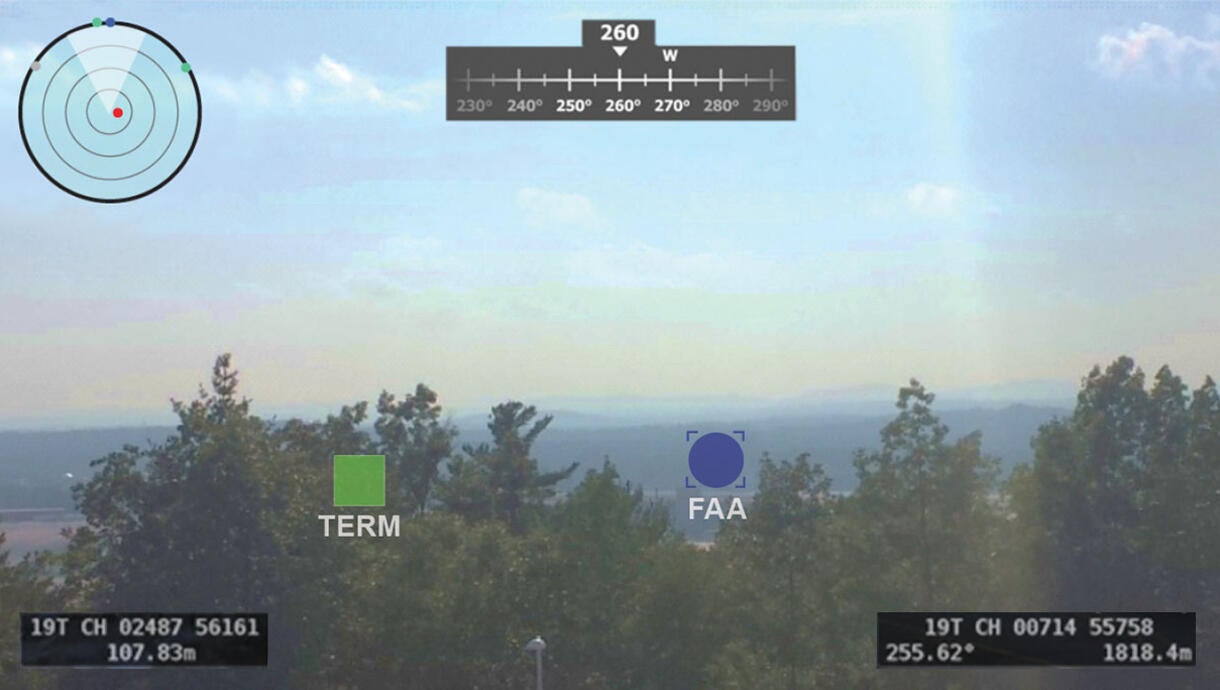 May 2022, L3Harris.com
The L3Harris Mission Augmented Vision Information System provides intuitive, augmented reality-enabled battlespace information directly to an operator's eye for expedited tactical decision making and response
Imagine the scene: it's midday, and, somewhere in eastern Europe, a special operations team patrols through thick woodland to find and fix enemy positions close to a disputed international border.
Silently signaling a tactical pause, the team leader flips down a helmet-mounted, see-through display to confirm position and bearing while maintaining "eyes up" situation awareness. Within seconds, the team leader has confirmed the route to target and signals the team to quickly continue with its mission.
Until now, such a capability has been reserved for armed forces operating at the tip of the spear with leading-edge Night Vision Devices (NVDs) featuring integrated Augmented Reality (AR) capability. Examples include the U.S. Army's Enhanced Night Vision Goggle-Binocular (ENVG-B) solution.
Today, L3Harris Technologies is developing a standalone AR device that will enable more troops to benefit from the same AR iconography without resorting to wearing NVDs during the day.
While still in development, this ground-breaking solution can eliminate the need for longer navigation checks with camouflage screen systems, maps and compasses – and promises a cost-effective solution for armed forces seeking AR iconography overlay capabilities during both day and low-light conditions.
Emerging Capability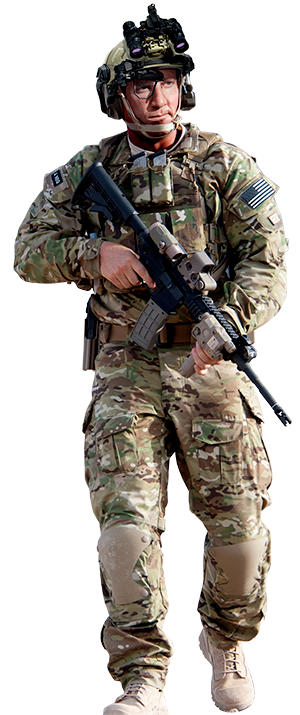 The L3Harris Mission Augmented Vision Information System (MAVIS) is an unobtrusive, see-through and flip-down display providing the warfighter with an intuitive visualization of mission-specific data.
Projecting positioning and navigation iconography onto a thin, lightweight and rugged monocular lens, MAVIS can be operated as a standalone device during the day or operated in line with Image Intensifiers (I2) or thermal imaging NVDs in low-light conditions.
MAVIS comprises a user-configurable graphical interface tailored to specific mission and operator preferences, according to Leith Ames, L3Harris Business Development director. The solution extends battlefield connectivity and delivers information to the warfighter across the tactical network.
"This is a relatively new market area for L3Harris as we focus on providing our customers with more of a 24-hour capability," he said. "MAVIS is a helmet-mounted, advanced display providing AR and data overlay for situation awareness that can be used as a standalone day display or coupled with legacy or next-generation, integrated NVGs for low-light operations."
Weighing less than 2 pounds, MAVIS includes a See-Through Head Mount Display (STHMD), displaying positioning and navigation information to the warfighter; a smart battery pack; and an integrated user control.
MAVIS can be attached to advanced combat helmets and modular integrated communications helmets via a secure lock, and integrates with legacy devices including AN/PVS‑31 and AN/PVS‑31A.
Secured above the eye by an adjustable stow arm, the drop-down STHMD provides a 40-degree field-of-view; 1280 x 720 full color; and a 4,500 cd/m2 display.
An optional wireless remote-control module, featuring WiFi or Bluetooth® connectivity, can be carried or attached to the rail adapter system, dependent upon customer preference.
In order to generate accurate AR iconography, MAVIS is networked to a software-defined radio or soldier modernization software package, including the U.S. Army's Nett Warrior or Tactical Assault Kit.
"MAVIS can show the warfighter waypoints and the direction they are facing in addition to projecting routes to target," Ames said. "This capability allows the warfighter to move faster without conducting compass and map checks. The speed of going from one place to another is a huge increase."
The system's unobtrusive display minimizes visual and mechanical obstructions, providing intuitive visualization of mission-specific data to reduce cognitive burden, he added. It is meant to be lighter and moved out of the way when not in use.
Customer Input
L3Harris continues to design multiple technology demonstrators based on feedback from potential customer use cases.
"We are in the process of getting potential customer inputs on how they would want to utilize MAVIS," Ames said, adding that, depending on customer requirements, MAVIS can operate directly off an ENVG-B battery pack, negating the need for a separate processor. "Moving forward, we would like to have a universal processor and battery pack for all of the visual augmentation systems that the helmet may be hosting."
As an internally funded research and development project, MAVIS will continue to be "honed" over the course of 2022, Ames said. Areas of interest include extending battery life; improvements to the user interface; and enhanced ergonomics to provide maximum utility to the warfighter.
"In the meantime, L3Harris is getting MAVIS in front of customers from all the different services and organizations across the U.S. Department of Defense to get as much information as possible to really confirm what capabilities potential users might need," he said.
---