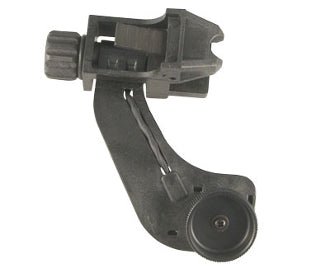 A J-arm allows the user to swing a PVS-14 in front of their eye when mated to a bayonet style mount such as a USGI "Rhino" or headmount assembly.
NOTE: These J-Arms will only interface with "bayonet" style mounts, including the mount on the Mil-Spec Headmount Assembly
They are not compatible with a dovetail mount (such as the Wilcox G24) but are compatible with a Wilcox G11 or Norotos Rhino. For a dovetail option, we recommend the Wilcox J-Arm or Noisefighters AX14 PRO.